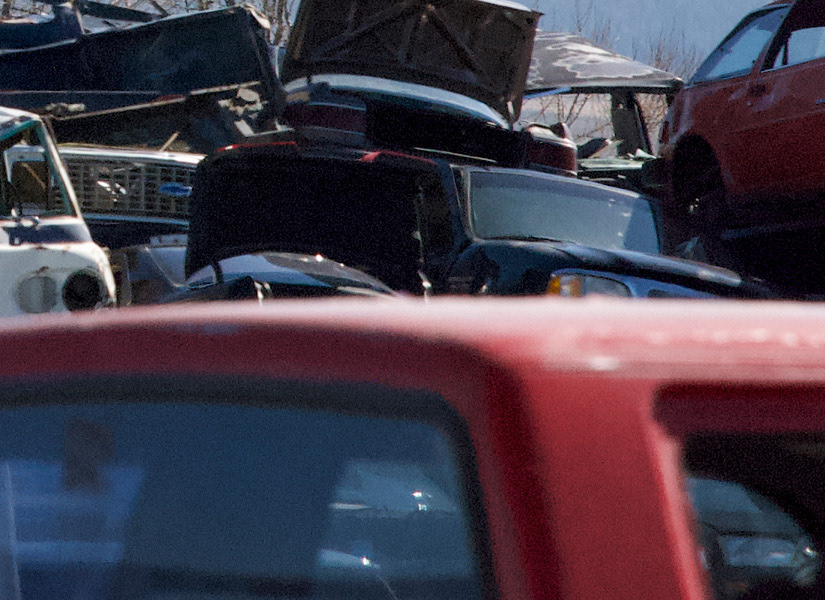 (This is only an excerpt from the story — for full version, please visit my Patreon site here)
It was Saturday, December 12, 1981, and Mateusz and I were taking photographs for our diaporama, or slide show concerning the beauty of the junkyard. Mateusz wore his fake American Army jacket, and I had my small, round framed eyeglasses on — quasi-John Lennon. The Oleśnica junkyard was like Noah's ark floating on the waves of apartment building complex raised on the wasteland of post-World War II Poland. The day was cold and sunny, and the patches of last summer's dead grass, as well as some of the junk, were still covered by yesterday's snow. The air smelled of rust and diesel oil, and we could not be happier busying ourselves among the yard's rubble, hunting for the best shot of the ugliness that surrounded us.
We made our diaporama by displaying still photographic images with the use of especially made projectors. We used a minimum of two slide projectors for each presentation. A musical soundtrack, which played in the background during the show, was a necessity. 
The mood of the imagery shown on the slides could be enhanced by the way the slides were arranged. The transitions between the slides were designed by our creative team using a small black box which acted as a timer for the two slide projectors that were connected to the box.
There was middle aged couple walking on the trail outside the junkyard fence and we attracted their attention. It was obvious to me that they were overtaken by the incredulousness of our activities taking place in front of them. I could tell that they were exchanging comments with each other; sometimes nodding, other times slightly turning their necks sideways as if trying to locate the objects that two photographers found interesting enough to zoom their close-up lenses on. But they were soon on their way, still gesticulating with their arms. Seeing Mateusz and I at work must have satisfied their daily quota for the most exciting conversation. Their conversation could have, potentially, resulted in passionate intimacy. 
(This is only an excerpt from the story — for full version, please visit my Patreon site here)​​​​​​​